See you at Artbots
:
My p
ART
ners and I will be part of the ArtBots show in New York on the 17th 18th and 19th. Our piece is called "Three Blind Mice". They're not blind but they are mice and they'll be driving little saucer-shaped "motorcarts".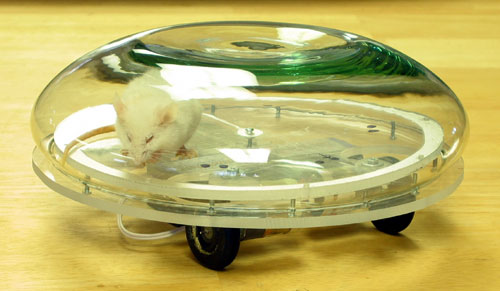 The show should be fun:
"It's an ArtBots Invasion in Harlem!

It's an ArtBots invasion in Harlem! The Third Annual ArtBots: The Robot Talent Show will take place on September 17, 18, & 19 from noon to 6:00pm at The Mink Building on 126th Street & Amsterdam Avenue in Harlem. Featuring the work of 20 artists and groups from seven countries, the show celebrates the strange and wonderful collision of shifty artists, disgraced engineers, high/low/no tech hackers, rogue scientists, beauty school dropouts, backyard pyros, and industrial espionage that has come to define the emerging field of robotic art. Participants include robots that sketch, carve, float, wiggle, hum, ring, grow, wander, and sing, as well a number of works the form and function of which are not yet well understood.

Read the full ArtBots 2004 Press Release.

Check out the artists and their work here!"
P.S. our piece will also be part of the
Providence RI FirstWorks festival http://firstworksprov.org/